2023-2024 Fall/Early Winter CAMBRIDGE Novice (Levels 1-3) Season Pass - Fridays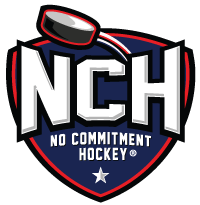 No Commitment Hockey Games are typically offered on the same weekly schedule and are limited to 20 skaters and 2 goalies per game to make sure that you're getting the most ice time. All games have a referee for game structure and players who are there for the right reasons. With designated levels, you'll be playing with players who are in your same ability range. Learn More →
Dates
9/29/2023 through 1/26/2024, 18 games
Days & Times
Fridays at 10PM or 10:30PM
Location
Level
Goalies:
AVAILABLE, Register Now
Pricing and Payment Options
The deadline has passed for SKATERS to register for this season pass. Skaters may view the reamining games in this season pass and book them through No Commitment Hockey.

GOALIES may register at any time if space is available.
GENERAL SEASON PASS NOTES
ADDITIONAL NOTES SPECIFIC TO THIS SEASON PASS
The novice level is generally only open to only those within the first 5 years of hockey experience, or the equivalent. Please review the definition of the novice (Levels 1-3) level to be sure you qualify. If you are uncertain of your eligibility for the novice level, please contact the league office for guidance. We do everything we can to ensure proper leveling but it all starts with the honesty of players selecting games. Any player displaying ability above the stated level of a game is subject to removal from that game without refund. Players with an order history of non-overlapping levels (level 4 and above) will be subject to cancelation. Thanks for helping us ensure a great experience for all.
<!-Game canceled condition->