No Commitment Hockey for Skaters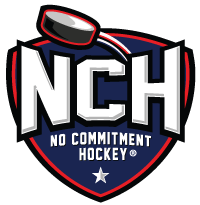 Hockey On Your Schedule, Game By Game.
For those looking for the ultimate combination of both schedule flexibility and game consistency, No Commitment Hockey allows you to book any of our Standard Games or skills clinics that have availability, whenever you'd like. Get on the ice seven nights a week or once a year, the frequency is up to you. Read More →

Standard Games
are typically offered on the same weekly schedule and are limited to 20 skaters and 2 goalies per game to make sure that you're getting the most ice time. All games have a referee for game structure and players who are there for the right reasons. With designated
levels
, you'll be playing with players who are in your same ability range.
Learn More →
STINKYSOCKS HOCKEY JERSEY REQUIRED
All skaters must wear a StinkySocks Hockey jersey registered to them in order to participate in a NCH game.

THURS 6/8/23 - BURLINGTON - 7:00 AM - Mixed Open Level (All Levels)

Hotlist Game
Price: $24.00
Date & Time:
06/08/2023 at 7:00
IMPORTANT BOOKING NOTES
You must wear a StinkySocks Hockey jersey registered to you in order to participate.
Your attendance directly affects the experience of other players. You must provide notice if you cannot attend, in accordance with our attendance policy.
When registering online you can only register for yourself. Please call us if you wish to also register for a friend, as duplicate orders under the same name are subject to cancelation.
Please review the terms of purchase and rules/policies that you will be asked to accept at the time of registration.
Skater Pricing and Registration
Cancellation Benefit for All Memebers: If you cancel more than 6 hours prior to your game then you will receive credit in the amount of the purchase price, issued as a promotional gift code that is valid for 30 days.
Additional Game Change Benefits
Free Hot List game or $10 off ANY rebooking on or before the day of the originally scheduled game/clinic when calling out at least 3hrs in advance.
Change to ANY rebooking of equal value at the time of call out, when calling out at least 3hrs in advance.
NCH purchases are non-transferable and non-refundable.