No Commitment Hockey for Skaters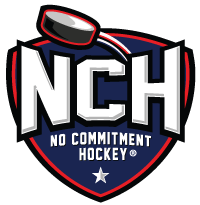 Hockey On Your Schedule, Game By Game.
For those looking for the ultimate combination of both schedule flexibility and game consistency, No Commitment Hockey allows you to book any of our Standard Games or skills clinics that have availability, whenever you'd like. Get on the ice seven nights a week or once a year, the frequency is up to you. Read More →

Standard Games
are typically offered on the same weekly schedule and are limited to 20 skaters and 2 goalies per game to make sure that you're getting the most ice time. All games have a referee for game structure and players who are there for the right reasons. With designated
levels
, you'll be playing with players who are in your same ability range.
Learn More →
REQUIREMENTS CURRENTLY IN PLACE
All skaters must wear a StinkySocks Hockey jersey to play in a NCH game.
Face coverings must be worn over NOSE AND MOUTH at all times.
All other Return to Hockey guidelines in effect must be adhered to for continued participation.