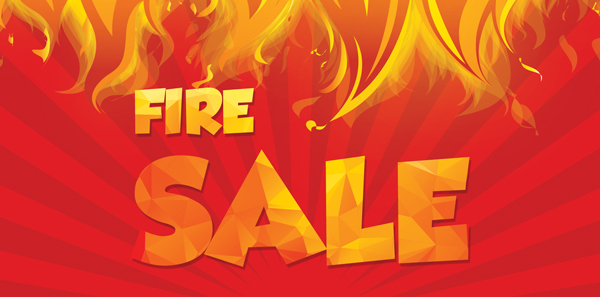 In late September, 2017, there was a fire at our office building. Luckily none of our merchandise was exposed to fire or heat, as most had been safely stored away. However, some items may have been exposed to smoke. We've cleaned those items that could be cleaned and the vast majority of our fire sale items are as good as new (see condition notes in the item descriptions).

Our loss is your gain! While supplies last, you can get an awesome discount on fire sale items. Fire sale items are being sold as-is, without warranty, and all sales are final.

Happy fire sale shopping and saving!


Retail : $54.00
Fire Sale Price: $37.80
General Condition: as new
Condition notes are for reference only - please see items details for more info
Retail : $35.00
Fire Sale Price: $15.00
General Condition: pro stock game used clean with some marks/repairs
Condition notes are for reference only - please see items details for more info
Retail : $14.99
Fire Sale Price: $5.99
General Condition: as new
Condition notes are for reference only - please see items details for more info
Retail : $13.50
Fire Sale Price: $4.99
General Condition: as new
Condition notes are for reference only - please see items details for more info
Retail : $15.00
Fire Sale Price: $7.49
General Condition: as new
Condition notes are for reference only - please see items details for more info
Retail : $20.00
Fire Sale Price: $8.99
General Condition: smoke smell may be present
Condition notes are for reference only - please see items details for more info
Retail : $25.00
Fire Sale Price: $12.99
General Condition:
Condition notes are for reference only - please see items details for more info
Retail : $20.00
Fire Sale Price: $12.99
General Condition: as new
Condition notes are for reference only - please see items details for more info
Retail : $20.00
Fire Sale Price: $4.99
General Condition: as new
Condition notes are for reference only - please see items details for more info
Retail : $20.00
Fire Sale Price: $9.99
General Condition: as new
Condition notes are for reference only - please see items details for more info
Retail : $20.00
Fire Sale Price: $9.99
General Condition: as new
Condition notes are for reference only - please see items details for more info
Retail : $20.00
Fire Sale Price: $12.99
General Condition: as new
Condition notes are for reference only - please see items details for more info
Retail : $80.00
Fire Sale Price: $19.99
General Condition:
Condition notes are for reference only - please see items details for more info

*SOLD OUT*
Retail : $39.50
Fire Sale Price: $19.99
General Condition:
Condition notes are for reference only - please see items details for more info