MON 6/17/19 - NATICK - 7:40 PM - Novice (D)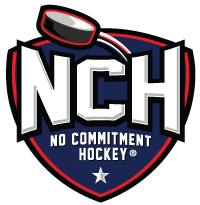 Date: 06/17/2019
Time: 19:40
Location: Natick - William L. Chase Arena
Level: Novice
Type: No Commitment Hockey/Open League
Games are limited to 10 skaters per team. Games contain a mix of committed open league (full time) players, who are enrolled in the season's series of games, and those who book available spots game by game through No Commitment Hockey.

NOTES
-
Important NOVICE level note:
The
novice level
is generally only open to only those within the first 5 years of hockey experience, or the equivalent (see level page for more detail). Players at this level are generally working on 2-4 of the fundamentals. We do everything we can to ensure proper leveling but it all starts with the honesty of players selecting games. If you are uncertain of your eligibility for the novice level, please contact the league office for guidance.
Any player displaying ability above that the stated level are subject to removal from the game without refund. Players with an order history of non-overlapping levels (anything other than C/D) will be subject to cancelation.
Thanks for helping us ensure a great experience for all.
- No slapshots allowed at this level
Inventory Level: SOLD OUT
Please note that inventory updates may be delayed.